Welcome to InterMarque!
Want to read something? Click here
Interested in submitting something? Click here.
Interested in learning more about us? Read on…
INTERMARQUE OVERVIEW:  InterMarque serves as a central gathering place for more than 40 foreign car clubs from across the Upper Midwest. We are dedicated to the enjoyment and preservation of vintage, foreign automobiles through community involvement. Based in the Twin Cities area of Minnesota, InterMarque hosts this website, car shows, and car club picnics year 'round.
INTERMARQUE SPRING KICK-OFF: The InterMarque Spring Kick-Off is billed as the first event of the "Motoring" season where car owners can bring their vehicles out for a spring car show. It is held in early May in beautiful Downtown Osseo, MN which is 20 minutes north of Minneapolis. Parking on the main drag is limited to vehicles that qualify for classic status under Minnesota Law, which is any vehicle that is twenty years old or older. Local Vintage Foreign Clubs are able to reserve parking spaces for their club for a minimal fee and are allowed to decide how best to use that space to represent the club.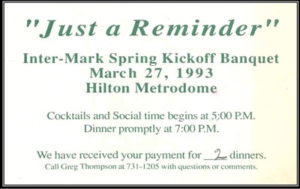 SPRING KICK-OFF HISTORY: The Spring Kick-Off held its first gathering in 1993 at the Hilton Metrodome. After a variety of locations, the Kick-Off settled into the Radission Crowne Plaza near 494 and Highway 55 in Plymouth. Vehicles were parked in the park-like area behind the hotel. We soon grew to a size where we were filling up the park as well as spilling over into the regular parking area. At this point it was decided that we needed a larger area and moved the event to Como Park. At Como Park, we settled in at a site down by the lake in the parking lot and picnic hill down by the pavilion. Before long, we began to fill up this area and were not able to accommodate all of the vehicles, despite the weather being bad for the last two years. We also had limited parking in the immediate area for spectators. In 2012 the show was moved to Osseo, MN where it continues to grow!
View some of vintage Flickr albums here at our old location in Como Park in St. Paul.