By Ron Engle – Thirteen Borgward owners from Germany, Belgium, Luxembourg, and the UK shipped their Borgwards to New Jersey for the Coast to Coast Route 66 Tour. The cars came on the Wallenius Wilhelmsen Tiger, an auto transport ship that accommodates 7,000 vehicles on a single crossing from Bremerhaven, Germany, and Southampton, UK. Two members of the Borgward Owners' Club USA, George Ormsby from Canada and Dyck Livant from Long Island, inspected the cars as they were being unloaded. Several batteries were drained. The workers were reminded how to release Borgward hand brakes.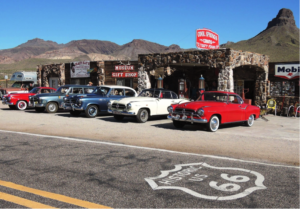 On September 17th, the teams picked up their Borgwards and started out across the USA to Chicago and then followed the old Route 66 out to Santa Barbara, CA, for the 29th National Borgward Owners' Meet, which became an International Meet from Oct 12 – 15. Route 66 begins at Adams Street and Michigan Ave. right in front of the Art Institute of Chicago. The Borgwards were parked on both sides of the street ready to go.
Barbara and I drove our 1960 Borgward Isabella Coupé from Minnetrista, MN, down to Springfield, MO, where we met up with the Borgward teams. There were twenty-nine in the group including six women. Seven teams were from Germany. The vintage Borgwards (1956-1961) included seven Coupés, three Sedans and three Combis. Cris Guns from the Borgward Club of Belgium along with John Wallis from the UK Borgward Owners' Club were responsible for organizing the tour.
When our Borgward pulled into the motel in Springfield, Siggi Bunk and his wife Anne were there to greet us. I had corresponded with Siggi for 12 years. Siggi is a Kraftfahrzeugmechanikermeister (in short – a motor vehicle master mechanic) and specializes in Borgwards. His expertise was invaluable. John Wallis from the UK volunteered to perform technical interventions, aka roadside repairs, and on many occasions he worked well into the night.
One problem could have been a disaster. On the third day, in Ohio, a Borgward engine blew what was probably a piston ring. What to do. Send it back to Europe? A call to Kris Brickman, a Borgward owner in Cleveland, saved the day. Kris had a spare motor ready to go. They arrived at his house at 7:00 pm and by 2:00 am the engine was replaced and ready for the road. There was a million to one chance that a ready to go Borgward engine would be only a few miles away.
Several trunk boxes with Borgward spare parts supplied by a German firm accompanied the group. Randy Schultheis from California met the group in Chicago with his Borgward Coupé and a pickup and trailer that his sister and mate drove to assist if necessary. Randy was a real trooper. Jessie Calhoun, usually riding in the back seat of Randy's Coupé, filmed the entire tour for a Route 66 documentary.
There were several flat tires, a water pump needed to be replaced, starter solenoid and generator problems, but nothing that couldn't be fixed. John Wallis from England was a hero. He worked many a night to resolve problems with the help of Cris Guns and others. Carburetor adjustment became a popular evening past time.
The Borgwards did not drive in one caravan, the Germans tended to drive in their own group and the Belgians did the same. Each day the travel distance was from 200 to 300 miles, avoiding the Interstate and driving on the old original Route 66 as much as possible. The Belgians drove every bit of the accessible old Route 66 and every little piece of the old asphalt and concrete road had to be examined. It is surprising how much of the old Mother Road still exists. Sometimes the road surface was in rough condition and sometimes fairly good. Bridges may be out, but dry riverbeds could be skirted around.
Many little tourist stops make Route 66 interesting. Driving through Missouri, Kansas, Oklahoma, Texas, New Mexico, Arizona and finally California, there were many abandoned gas stations along the way, some turned into antique shops, many dilapidated structures. The ubiquitous Route 66 icons—the Tee Pee motel, the Cadillacs in the mud, the road stands, and the Route 66 museums all provided plenty of stops along the way. One of my favorite is the restored Gas Station and U-Drop Inn Cafe in Shamrock, Texas. For me it is the epitome of the Art Deco style architecture. And at night the neon lights are a wonder to behold.
While the group visited Grand Canyon and Las Vegas, Barbara and I detoured to Las Cruces, NM, and Tucson. It was time to have the Borgward greased —all thirty-two zerks—and change the oil. To my surprise the shop did not want any money. Servicing a Borgward was payment enough, they said.
We met the group again in Kingman, AZ, and off we went on old Route 66 up a mountainous road to Oatman, AZ, an old mining town where the wild burros roam the streets and are fed by the tourists. There is a shoot out daily at 12:00. The burros are wild, once pack burros for the miners, they were left to their own in the countryside.
On to Barstow, CA, the last stop before trekking to Santa Barbara. Finally arriving in Santa Barbara you know why it is called paradise—a constant pleasant temperature, sunny and easy going streets. Brent Lay, who organized the Meet in Santa Barbara, came to Barstow to lead us to Santa Barbara. There, we met our old Borgward club members and rejoiced at seeing their Borgwards, like old friends. Brent had arranged daily excursions into the steep hills and surrounding areas to test the mettle of the Borgwards. We had lunch on the beach, visited wineries and the old missions along the coast including the Santa Barbara Mission.
Many events and old acquaintances made the Meet special. Klaus, from British Columbia, brought his Coupé down from Canada. He thought he gave the keys to his wife. But no, she said. But a happy ending when another Borgward key from a Brit fit perfectly. Keys from sixty years ago were apparently not that sophisticated. Paul Thomasson brought his almost restored Borgward RS race car equipped with two injection Carbs on a 1.5 L Borgward engine from the period. A flash back to 1957 when Borgward was a Formula II winner.
After four weeks on the road and 9,000 kilometers (5,592 miles), it was time for the group to say farewell. After several goodbye meals, the Europeans drove their Borgwards to Long Beach where they will be loaded on a transport ship and sent back to the UK and the Continent through the Panama Canal. On the way they stopped and had their photos taken at the end of Route 66 sign in Santa Monica.
It was difficult to leave Santa Barbara behind. But the almost 2,000 mile drive back to Minnesota and October weather prompted us to hit the road. Our drive took us to overnight stops in Stockton, CA, Winnemucca, NV, Park City, UT, Rawlins, WY, North Platte, NE, and Le Mars, IA. In the lonely outpost of Winnemucca, NV, we ate a Jägerschnitzel (breaded Cutlet with mushroom on top) for $12.95 that was delicious. Crusty and the mushrooms didn't make it soggy. We asked if the chef was German. No, they told us, turns out he was French. Surprise!! Even in the middle of nowhere a French chef appears on the horizon to placate the palate of two Minnesota Borgward travelers.
It was a very long and wonderful journey—four weeks, 5,621 miles (9,046 km), 17 motels, and 13 states. New friends and old Borgwards. Life couldn't be better.